Nutrition Program
Daily meals and snacks offered at Phoenix Preschools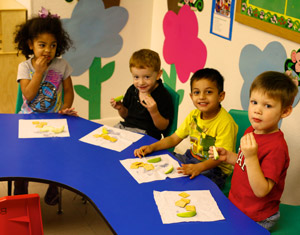 Valley Child Care in Phoenix is committed to providing a well-rounded curriculum and a safe place for children to play. Part of this commitment is also to teach children healthy habits through nutritious meals and snacks while they're at Phoenix Preschools.
Our goal is to show children the value in nutrition at an early age to kickstart their lifelong love of healthy eating. We promote a positive learning environment by setting each child up for success. The curriculum we teach is:
Nutrition Facts
The curriculum we teach is developed to help your child learn and grow through every stage of life. Preschool nutrition supports that initiative in many ways. When it comes to eating a healthy diet, keep these tips in mind throughout the day:
Whole Grains: Brown rice, oats, quinoa, and whole grain pasta provide fiber.
Healthy Protein: Lean red meat, chicken, turkey and fish.
Plant Protein: Beans, lentils, peas, nuts, and seeds also satisfy protein needs.
Calcium: Green vegetables, yogurt, cheese, and milk help stimulate healthy growth.
Necessary Fats: Found in peanut and almond butter, tofu, edamame, and avocados.
Breakfast
Effective early childhood learning depends on good nutrition. This study from KidsHealth demonstrates how eating breakfast contributes to a child's ability to pay attention, think quickly and build friendships. Children who regularly eat breakfast are more focused, solve problems more easily and aren't as prone to irritability in the morning hours.
For all these reasons, breakfast plays a starring role in Valley Child Care's child nutrition program. Breakfast is offered at no additional charge and you even have the option of enjoying breakfast with your child!
Snacks and Lunch
Valley Child Care's complete child nutrition program also includes morning and afternoon snacks as well as lunch. All meals and snacks are nutritionally balanced, include the required dietary components and conform to recommended portion sizes. We always encourage children to try every food group that is offered. Your child may also have a second serving of his or her favorite foods.
Valley Child Care in Phoenix, Arizona is focused on your child's well-being in all areas of development. From the curriculum we teach to the food we serve; all is done with the intention to encourage your children to succeed. To learn more about our other programs or to sign up for child care at Phoenix Preschool, please call us today!